Pendulum chair(振り子椅子)
科学技術情報の調査収集と紹介・パテント事務支援・ビジネス企画立案・エンジニアリングコンサルタント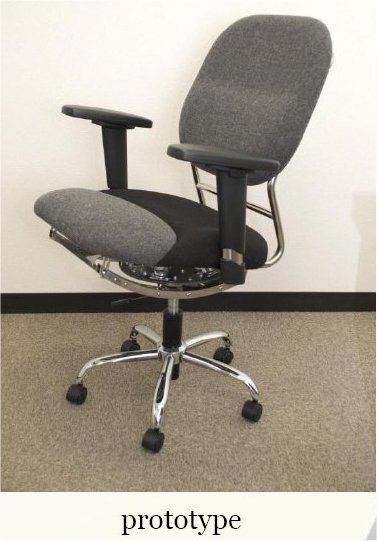 Company profile
Company: Science Road Inc.
Address: Zip:241-0833 68-82 Minamihonjyukucho Asahiku Yokohama Japan
TEL: 045-530-5210
Pendulum chair support waist to hold COG in same position.
FAX: 045-352-2639
e-mail: smc2011@science-rd.com
 About Pendulum chair
Seat can move like Foucault pendulum 
Pendulum, free to swing in 3 dimensions.
Pivot is placed on near COG  
When sit the pendulum chair, the pivot of swinging comes almost your COG (center of gravity) position.
Holding COG  
Usual chair support waist in same place.
Pendulum chair support waist to hold COG in same position.
Free to move 
During sitting, you can swing and twist waist to any direction without disturbing your desk work.
Work Chair  
Pendulum chair is not for rest but for work.

 Features
Guide to good posture in naturally
Can move waste any direction
Prevention for Low Back pain
Decrease fatigue of sitting
Decrease stress of desk work
Train waste muscle
Increase concentration for desk work
 For cooperators
Pendulum Chair is an ergonomics products.
Totally different from conventional desk chairs.
We support for develop your original pendulum chairs.
Pat. Registered : Japan, USA, Britain, Germany, France